VIDA IT 64GB MicroSDXC UHS-1 Class 10 Memory Card with SD Adapter
The Vida 64GB Micro SDXC Card is perfect for people who need mobile storage on the go. This 64GB memory card will store pictures, movies or files to your mobile device fast and efficiently. It utilises grade A Nand flash memory to provide reliable storage for years to come. All Vida Memory cards come with a Lifetime warranty.
In stock
---
More Buying Options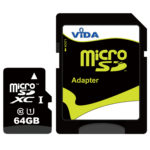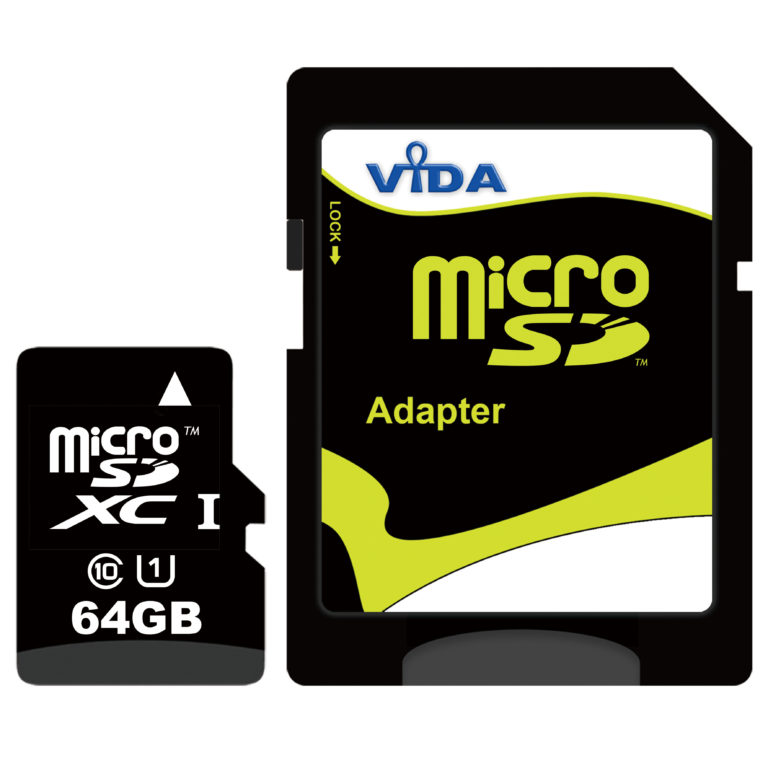 High-Quality Grade A Flash Memory
Speed performance rating: UHS-1 Class 10 – Comes with Free SD Adapter – Transfer files between micro SD and SD devices
High storage capacity (64GB) for storing essential digital content such as high-quality photos, videos, music and more.
Optimal speed and performance for SDXC compatible devices.
High-speed class 10 for recording high definition video.
High-Quality Grade A Flash Memory backed by a limited lifetime warranty.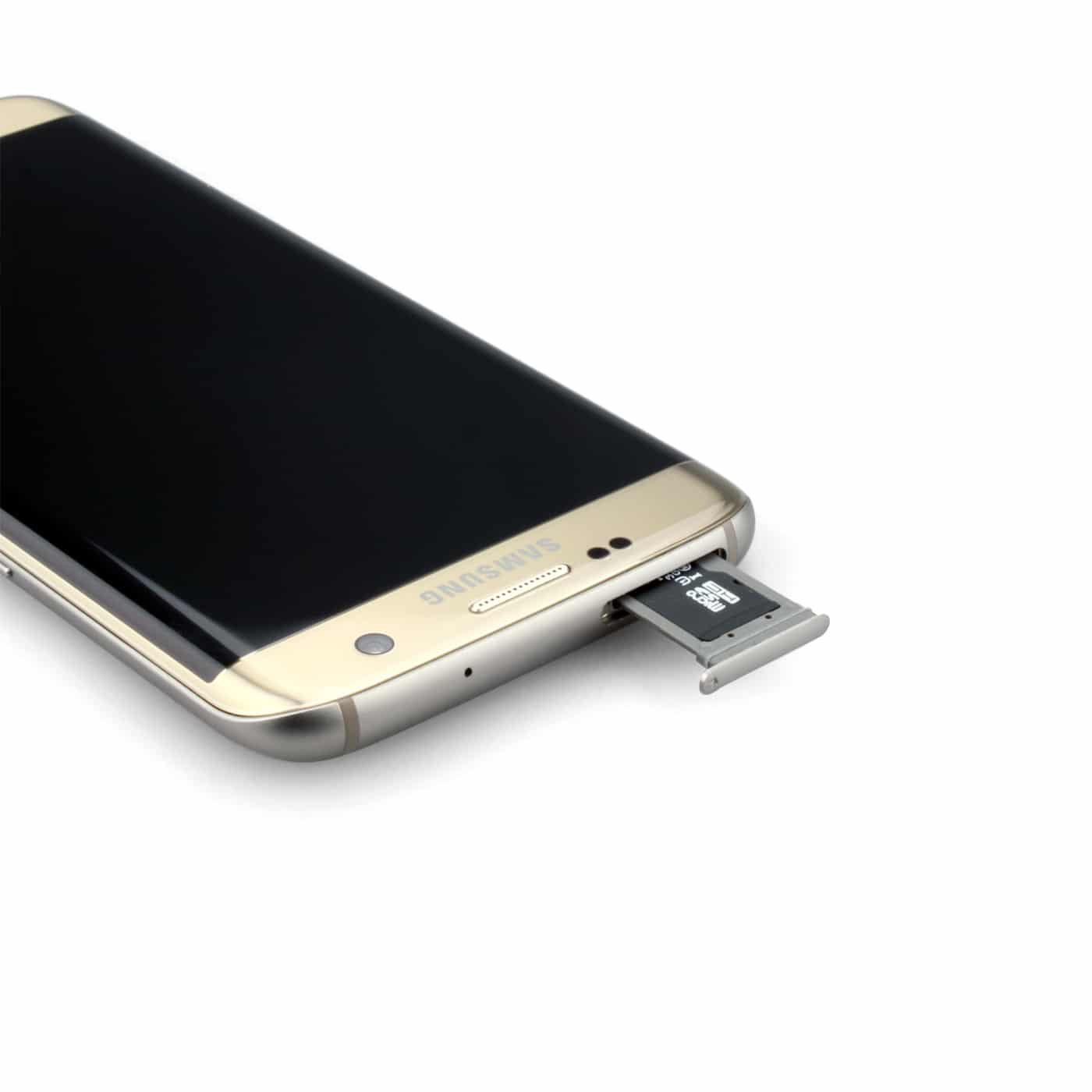 Extra Storage for the things that matter
In the changing world of electronics its essential to have enough room to store your information. Upgrading your memory card is the best way to give you that extra room at the best value for money. Micro SDXC cards are one of the smallest memory card available, allowing massive storage for its tiny size.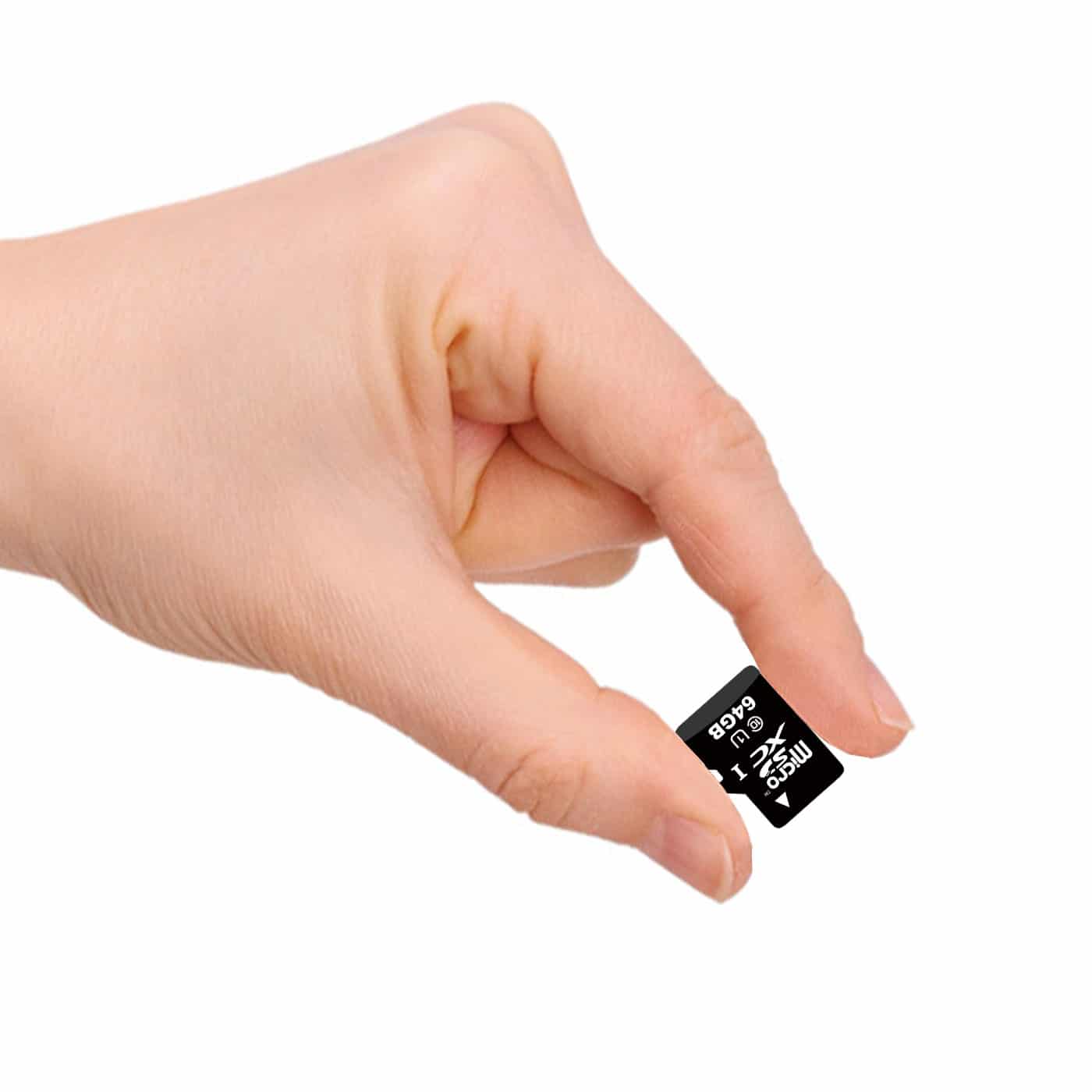 Fast Transfer Speeds
The Vida IT 64GB MicroSDXC UHS-1 gives Ultra High-Speed transfer for your files and media. This super fast card ensures that you are not waiting around for files to load. It's perfect for streaming live HD videos directly from your phone or camera. Don't be deceived by its tiny size, it can hold loads of your photos and picture for safe backup. Our Micro SDXC cards are manufactured to the highest quality by CLA licensed manufacturers.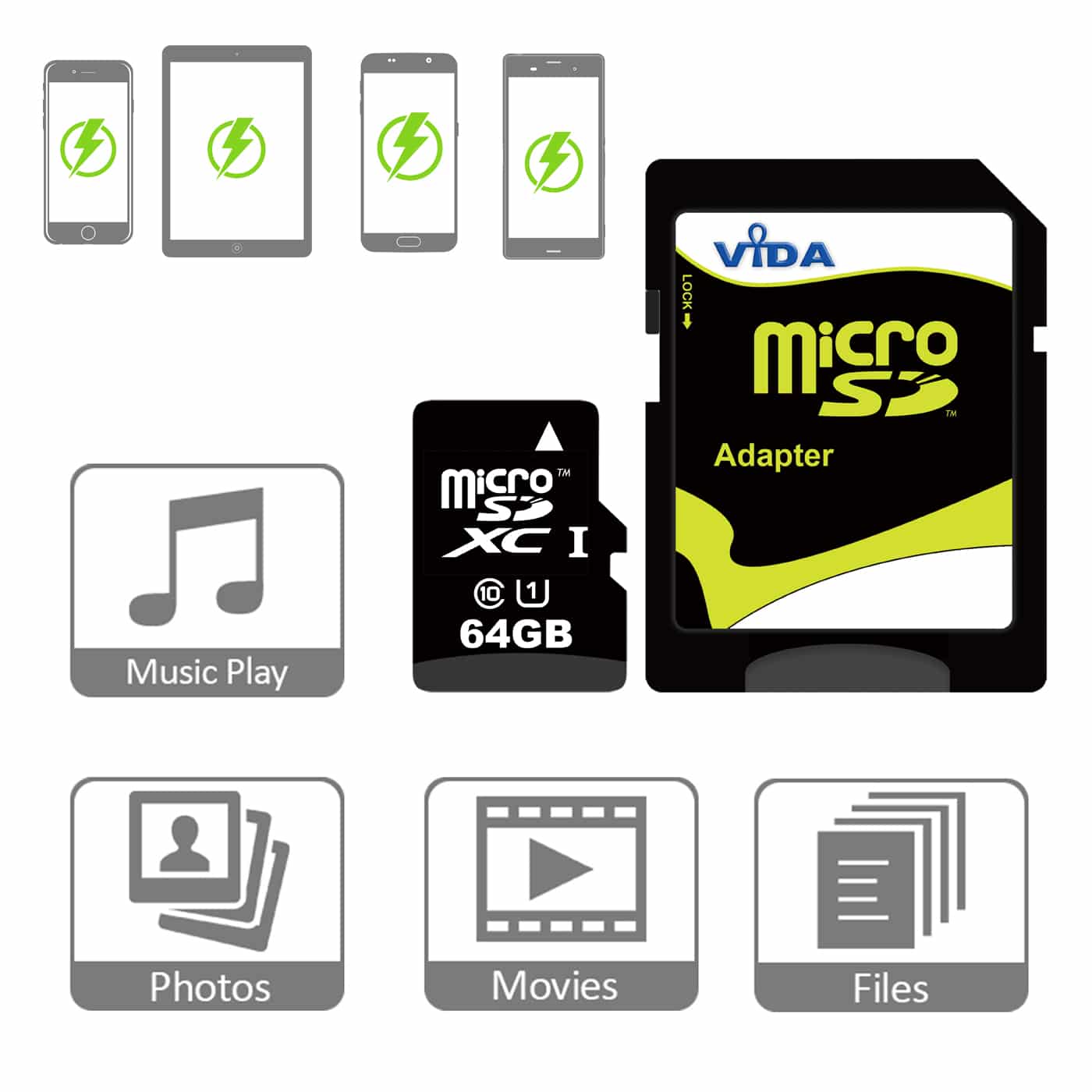 Perfect for recording High Definition Video
This memory card fully supports the recording of high definition videos. With its ultra high-speed transfer rate, you are able to record both HD and full HD without any issue whatsoever. Perfect for professional cameras.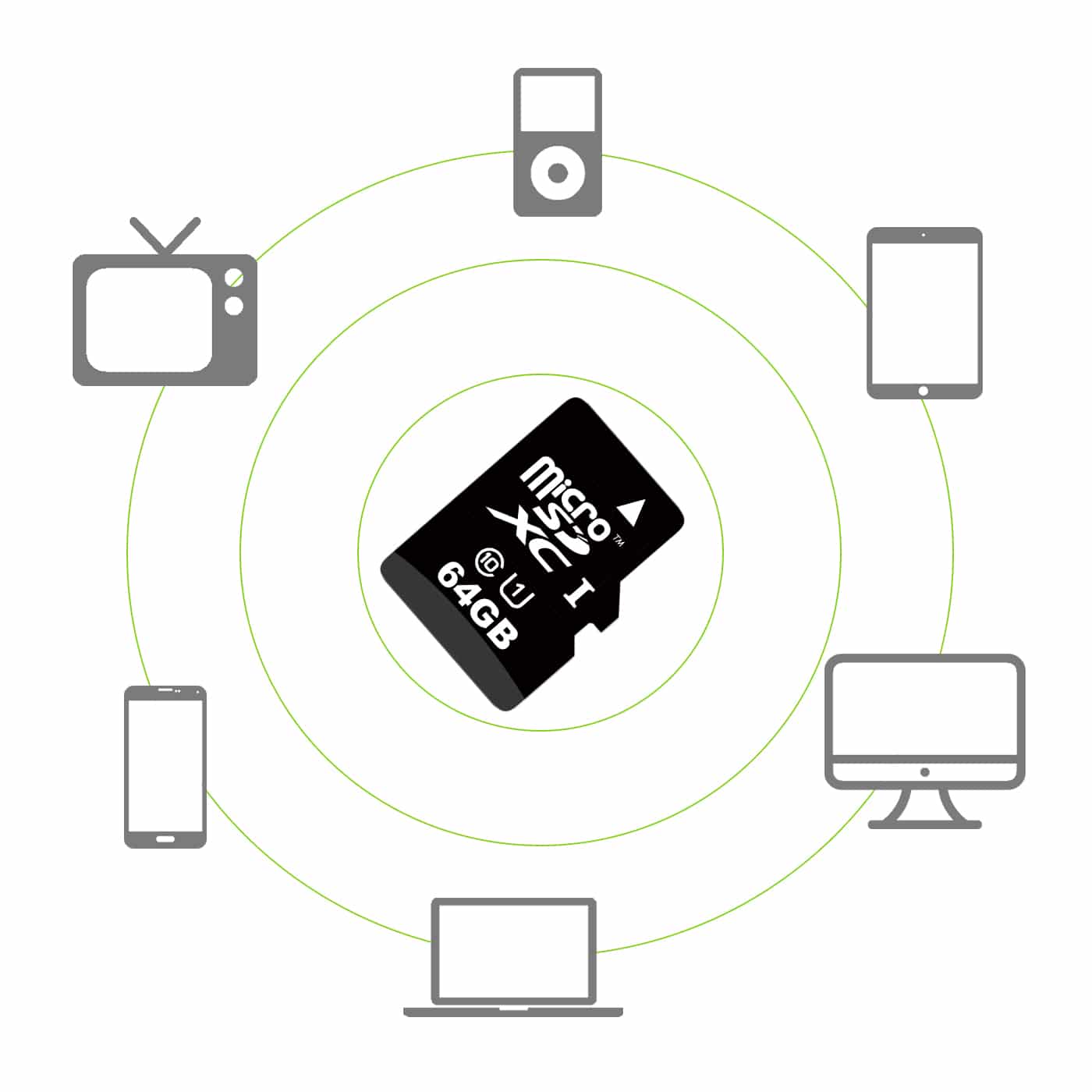 Compatible Devices
Compatible with a range of SDHC/SDXC micro devices on the market such as Cameras, GPS systems, Drones and other devices which support an SDHC/SDXC card slot.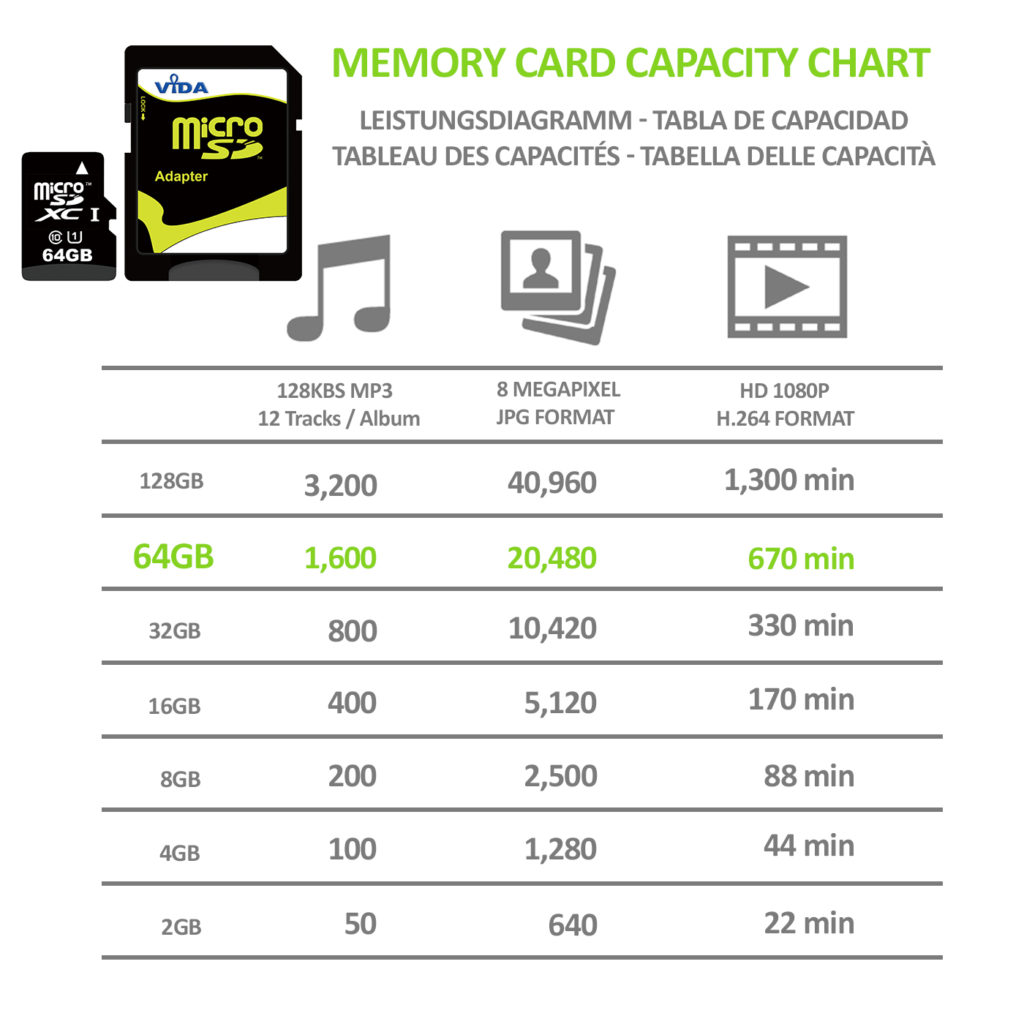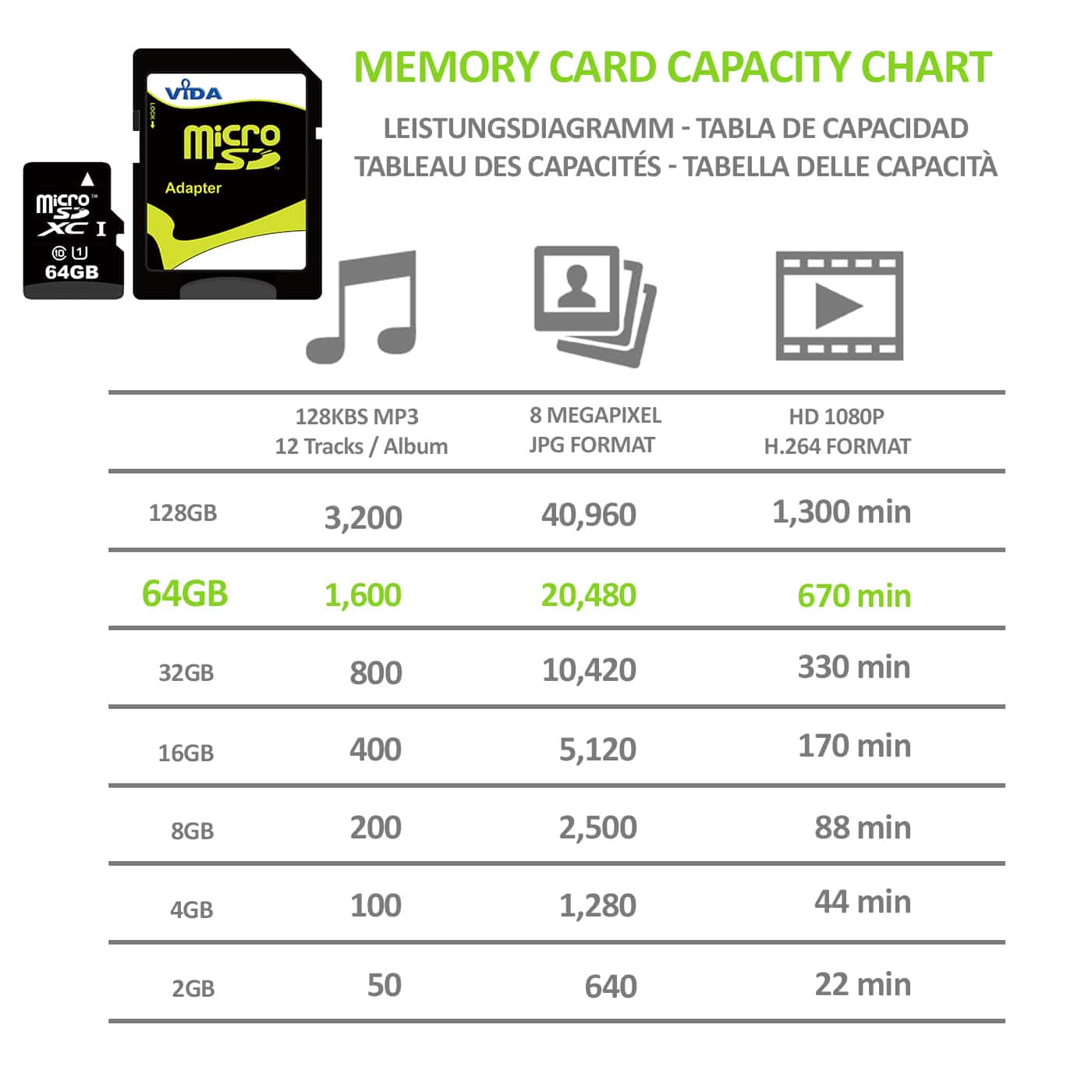 Additional information
| | |
| --- | --- |
| Brand | Vida IT |
| Condition | New |
| Read Speed | UHS-1 Class 10 |
| Built In | operating shock rating of 2,000Gs, equivalent to a ten-foot drop. |
| Special Features | 100% Genuine Nand memory with full capacity., High Quality Grade A Flash Memory backed by limited lifetime warranty, Optimal speed and performance for microSDXC compatible devices |
| Warranty | Limited Lifetime Warranty |
| Package Contents | 64GB Vida MicroSDXC Class 10 UHS-1 Memory Card, Plastic Mini Case, SD adapter |
| MPN | VIDAIT00252 |
| Barcode | 5053218999975 |
Videos
FAQs
[ultimate-faqs include_category=Memory Cards][ultimate-faqs include_category=microSDXC Cards]
Downloads


VIDA IT 64GB MicroSDXC UHS-1 Class 10 Memory Card with SD Adapter